Spinal Injuries Association help spinal cord injured  people lead fulfilled lives. 
We are the expert voice and leading source of information and advice for people with spinal cord injury (SCI).  For over 40 years, we've been supporting SCI people and representing the wider SCI community to government and other decision makers. Our work in campaigning, education and support is based on the personal experiences of our members.
Our membership continues to grow and we represent more than 11,000 people.  More than 50% of our staff and 80% of our trustees live with SCI.
Our belief is that everyone has a right to live a fulfilled life and that means the life they choose, a life that has the same opportunities as everyone else's. These beliefs have informed the development of our strategic plan.
Download a copy of our strategic plan to find out more about the objectives that will shape our future between now and 2022.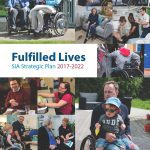 You can also click here to find out more about the impact of our services and how we supported our members and the wider SCI community last year.