Our achievements
Thanks to the support of our loyal partners and supporters we have achieved so much for the spinal cord injured community in the past twelve months. This has included helping over 3447 service users  719 of whom were newly injured, and also supported 1070 family members and friends.
Read more about our achievements and the impact of our work in our latest Impact Report
In addition to the spinal cord injured people and family and friends that we have helped, we have supported and trained 1752 healthcare professionals. This is mainly through our Academy Study Days, in-service training by our Peer Support Officers and our Advice Line.
We have also been working with the All Party Parliamentary Group on spinal cord injury on an inquiry into the provision of local health services for people being discharged from Spinal Cord Injuries Centres. The report of the outcomes of this inquiry  suggest a need for an urgent service review in SCI Centres and highlights the need to continue our support of people requiring help with NHS Continuing Healthcare.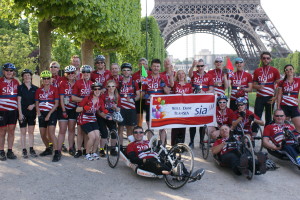 For the second year we held our own European cycling challenge, cycling from London to Amsterdam. Our TeamSIA cycling team raised £40,000 during this event.
Find out how you can support us as we strive to achieve our vision of ensuring all spinal cord injured people receive the specialist treatment, care, rehabilitation and support they need to be fully integrated and empowered participants in society.