Volunteer for us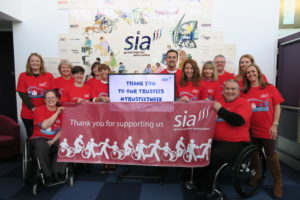 Volunteer for the Spinal Injuries Association
Spinal Injuries Association (SIA) was formed in 1974 by a group of volunteers, so we understand how important volunteers' knowledge and skills can be.  SIA is dedicated to helping the 40,000 spinal cord injured people in the UK rebuild their lives. We value the support, time and contribution that volunteers provide to the SIA, and celebrate our volunteers time, talents and skills.
SIA volunteers are a fundamental part of the charity and enable us to deliver services effectively, raise the profile of the charity and make a considerable difference to the lives of everyone affected by a SCI.
What are you waiting for?
We have volunteering roles in a variety of areas across the organisation, view our volunteering opportunities and hear some of our volunteers' experiences, to see how your skills could help make a difference to the spinal cord injured community.
Contact Jen Sims,  HR and Volunteer Coordinator for a volunteer registration form where you will also find useful FAQ's.  You can also call her on 01908 604191 ext 205 and she will be more than happy to talk this through with you.
Please note we may not find you a suitable role straight away, so please be patient. We hope you enjoy your volunteering experience with the SIA and look forward to welcoming you to the team!