Rebuilding my life after injury
As Darren Purchase prepared for surgery to remove a tumour from his spinal cord, he wasn't sure if he'd be able to return to his job with the Royal Air Force (RAF). Thankfully, with the help of healthcare professionals, his family and employer, Darren is starti­ng to look ahead to the future again.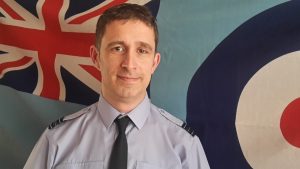 As I sit here on the train en route to Addenbrooke's Hospital for a scan to check for any new tumour growth, it's hard not to reflect on the journey I have taken over the last few years and how I have dealt with the challenges of finding out I had a tumour in my spinal cord.
As a serving Officer in the RAF, I have always been someone who has maintained a high level of fitness, so to be told in 2012 that I had a tumour in my spinal cord was a massive shock. I can honestly say I went through all the stages of the Kubler-Ross grief cycle though, to confess, I spent much more time in the 'anger' phase than I would have expected prior to diagnosis; I guess we never really appreciate how these events will affect us until they happen. That said, when I eventually let go of the anger and my pragmatic, logical nature kicked in again, I knew I had to face the reality of my situation; not to mention, plan for the future.
Owing to the location of the tumour (C3) just below the skull, the advice from the specialists was to leave it for as long as possible as any surgery would be incredibly risky. And so, I did, for about four years until the inevitable could not be avoided.
While not operating significantly reduced risk, inaction was causing problems. As the tumour grew, it compressed several nerves within the spinal cord, causing damage to my arm, leg and hand function, increasingly painful headaches and a syrinx (fluid build-up) within the spinal cord. As most issues with my arm and hand were on the left side and I am right handed, I found myself simply coping/compensating for the lack of mobility and strength. However, as time progressed, I reached the point of losing much of the function in my left arm and hand and – worse – the right side starting to degrade too. My quality of life would be severely affected if my right side degraded to the same point as the left and, furthermore, my continued employment in the RAF would be at risk.
After discussions with the consultant neurologist, the decision was made to undergo surgery. Knowing the range of potential outcomes and the high risk of paralysis, it was fair to say I prepared for the worst. Despite the fact that the RAF could not have been more supportive and was prepared to give me as much time as possible to recuperate, prior to surgery I cleared my desk completely accepting that I may never put on a uniform again.
By far the hardest part in all this was deciding whether, or exactly what, to tell my children. At nine and 12, they would not appreciate or understand the range of potential outcomes or consequences, and so my wife and I decided to simply explain I was going into hospital for an operation to fix my back.
It's probably appropriate at this point that I acknowledge what an absolute star my wife, Jude, was throughout this entire period. As someone who suffered through all the same uncertainty and emotional turmoil, she has been an absolute rock. Furthermore, due to the complexity of my surgery, she had to endure almost 20 hours of anguish while waiting for a call from the hospital following my operation.
As you can imagine, my priority as soon as I awoke was to check whether I could still feel my hands and legs. To my absolute delight, I could. Admittedly, they hurt like hell and, though I could move/bend on command, the movement was sluggish and painful. None-the-less, I cannot begin to tell you what a huge relief this was for both me and Jude. I should also point out that subsequent testing of the tumorous material removed from my spinal cord showed that the tumour was benign – another massive relief.
I spent the next five days in the Intensive Trauma Unit, lying in one position to allow my spine to heal. Lying facing the ceiling, only being moved occasionally and slightly to avoid pressure ulcers, I cannot begin to explain how boring and uncomfortable this was. I was then moved to a specialist ward and it took a further three days of mild physiotherapy, and gradually inclining the bed each day, unti­l I finally achieved something like a sitting positi­on. From here, I was super keen to try standing.
The physiotherapist arrived the next day, wired me up to several monitors to check my blood pressure, heart rate etc., and slowly positi­oned me on the edge of the bed. I gingerly put my weight onto my feet and stood up. Feeling elated, I couldn't stop smiling and immediately wanted to try walking. Unfortunately, what I wanted to do and what my body would allow me to do were at odds. Before I even took a step, my blood pressure dropped, heart rate spiked and I felt like I was going to faint. I was sat down quickly and that was it for the day; not the groundbreaking performance I was hoping for.
The next 12 or so hours were long. I had too much ti­me to dwell on what I considered my failure and to think about whether walking would be a possible at all. Fortunately, by this ­time Jude was visiti­ng often so I had a distracti­on and my next attempt soon came around. I was able to take a few (assisted) steps. I was on cloud nine and now I could stand/gingerly walk I could have a much-needed shower.
Taking that first shower, I had a reminder that my body had been through considerable trauma and though better, was far from fixed. As the droplets of water cascaded over my body, the sensati­on felt like thousands of needles being stabbed in to me; it was excruciating. It's what's referred to as being hypertonic and whilst a strong touch, bump or grab feels normal, a gentle tap or slight brush is – for me – intense and often mildly painful. Almost two years on, it appears that this is unlikely to disappear completely, however, it's much less severe now and only occurs on certain parts of my body.
In fairness, following addi­tional physiotherapy and some very intensive and specialised care courtesy of the excellent faciliti­es and staff of the Defence Medical Rehabilitation Centre, I am in a much better place today. Although not all muscle and nerve damage has been repaired and sensati­on, mobility and strength are reduced in certain areas, I have more than basic functi­onality in arms and legs, have reasonable grip strength in my right hand (less so in the left), and my stamina and overall body strength are not far off pre-diagnosis levels. Plenty of exercise since surgery has seen my leg strength almost return to normal with only residual nerve/muscle issues and, most importantly – despite expectations to the contrary – I can comfortably run good distances, at pace.
Sure, I have some existi­ng muscle damage and loss of true sensation in parts of my arms and legs but, even now, I con­tinue to improve. The hypertonic sensati­on has reduced to a manageable level and strength and muscle mass in my left arm and hand are sti­ll increasing, albeit very slowly. Overall, given the range of outcomes and most likely scenarios I was presented with, I recognise I am extremely lucky to be where I am today. I am grateful every day; grateful to my Jude, my family and friends for being so supporti­ve throughout, grateful to the RAF for its pa­tience and flexibility and eternally grateful to the excellent, often unsung heroes, of the NHS. From start to finish the care I was given was excellent, the professionalism and caring nature of all those I have and s­till engage with is a credit to them and the NHS.
So, following this somewhat rollercoaster of a journey I find myself on a train heading towards Cambridge, hoping that when the results of the MRI come through it will be good news but knowing that, regardless of the result, I have – up to this point – been incredibly lucky. I also reflect on how others may not have been so fortunate, which is why I have offered my ­time, services and skills to SIA. I hope that by supporti­ng such a fabulous organisati­on I will be able to give something back and help others who are undertaking a similar journey. Whether that help be through fundraising, workshops or any other forums, I intend to champion this cause, which is quite clearly and, for obvious reasons, very close to my heart.
At the ti­me of going to print …
Darren's scan results were all clear and the syrinx is reducing too. More great news!
This article was taken from the December 2019 issue of SIA's bi-monthly magazine, FORWARD.  
If you do not already subscribe to FORWARD, click here to make sure you don't miss out on the next issue.