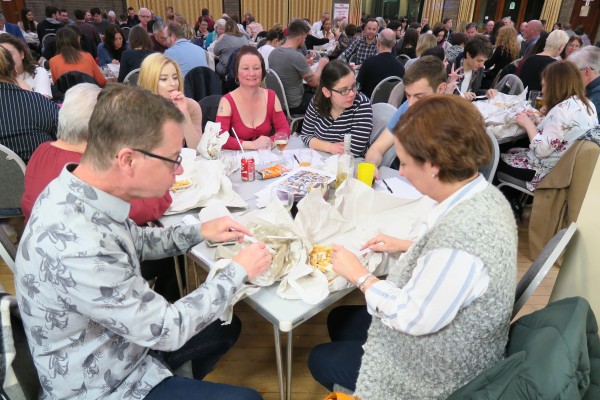 SIA's Biggest Ever Great British Fish & Chips Supper
1 June 2018
Want to fundraise for SIA but not quite ready to take on one of our other events?
Raise vital funds and awareness for SIA by taking part in what we hope will be our biggest ever Great British Fish & Chips Supper in 2018.
Back for another year, we want you to invite people to your dining room, your favourite restaurant, to the park or wherever you can eat #chips4charity, the classic British favourite, fish and chips. Whether you go for the traditional battered fish from your local, or try salmon and homemade chips, you can be as creative as your taste buds desire.  You can host a supper at any time you like just make sure you let us know the date and we can let our followers know you are supporting SIA.
Our top tip: once you have a date for your event, set out a suggested donation for guests that are attending, this could be an amount that covers the cost of the supper or any amount of your choice. Don't forget to arrange activities for everyone that comes along. We have had lots of supporters host quizzes, fancy dress awards, colouring games for young ones and lots more.
Visit our dedicated sister website to sign up your event and let us know if we can share it for members and others to join and help support your foodie fundraiser, or get in touch with a member of the fundraising team by email or call 01908 208541.
Once you have registered please visit VirginMoneyGiving to set up your fundraising page or let Lauren know that you would like some donation forms sent over.
You will receive your very own Fish fundraising pack and we can also send you fundraising ideas, banners, balloons and goodies to give away to your guests.
We don't know about you but after reading this we are definitely going to the chippy today… see you there.