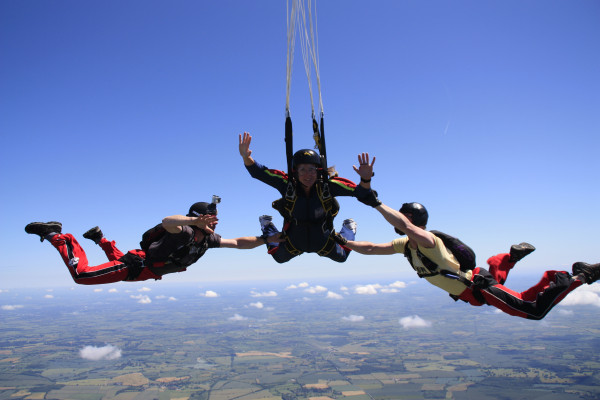 SIA's Skydive Day!
1 June 2019
Registration fee: £50 
Fundraising target: £500 (excluding Gift Aid)
Take on the challenge of a lifetime from 13,000 ft up and enjoy the exhilarating and unforgettable feeling of a skydive, all in aid of the Spinal Injuries Association!
SIA are looking for thrill-seeking fundraisers to join us on our Skydiving Day, giving you the chance to take on this once in a lifetime challenge alongside other members of TeamSIA!
Best of all: hit the sponsorship target and you can jump completely free of charge!
What's Involved
As a 'Tandem Skydive' you will be guided through the whole process by a highly trained instructor, and will be ready to jump after a short induction and training session.  To find out more about what a Skydive entails just click on the links below:
Brief overview of what to expect on the day
If you want clarification of any of the above, or have any general questions  you can contact us using the details below.

Sign up with Team SIA today!
We will help with all the hard bits, making the whole process as easy, hassle-free and fun as possible, meaning that all you have to worry about is actually jumping out of the plane! As part of the team you will also get:
An amazing fundraising pack full of hints, tips and a few ideas to help get you started
A SIA branded T-shirt to wear with pride during the jump
Support and advice from our experienced, friendly fundraising team right up until after you have landed
And, refreshments, treats and a post-jump celebration on the day!
Family and friends are all welcome to cheer you on to help make it an extra special occasion, and we will be awarding special prizes
Fancy jumping with friends?
The only thing better than a Skydive by yourself is taking part with a plane-load of family, friends or colleagues. Contact us to find out about group fundraising targets and more.
How to take part
Signing up to take on this amazing challenge couldn't be easier!
Simply register your interest below and our fundraising team will be in touch to talk you through the whole process.
Upon submitting your form a member of our team will be in touch as soon as possible to finalize your registration and answer any questions you may have. However, if you want to contact us in the meantime you can either call the team on: 01908 604 191 or email us .
Alternative Events: For anyone interested in taking part on a different date, or at an alternative venue, please contact our fundraising on 01908 604 191, or email: [email protected]
Due to restrictions put in place by the British Parachuting Association (BPA) and because Skydiving is a physically challenge activity, anyone who has sustained a spinal cord injury would only be able to participate on the day subject to an assessment by the event providers, and a written letter of clearance being provided from a specialist spinal consultant who is familiar with that case. However SIA would be happy to try and source alternative venues and means of participation for any persons looking to take part.
You can change the way SIA contacts you in the future at any time by contacting our Supporter Care Team via our online form here, or over the phone on: 01908 208 541. You can also find out more about how SIA uses your data and protects your privacy here. 
The event will be held at
Hinton-in-the-Hedges Airfield, Steane, Brackley, UK