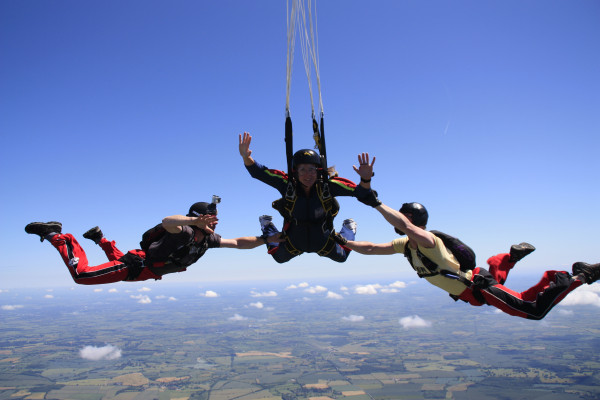 SIA's first ever Skydive Day!
15 September 2018
Registration fee: £50 
Fundraising target: £500
Enjoy the exhilarating and unforgettable feeling of a skydive – flying through the clouds from over 13,000 ft up ( and travelling at speeds of up to 120 mph), all in aid of Spinal Injuries Association!
SIA are looking for thrill-seeking fundraisers to join us at our first ever Skydiving Day, giving you the chance to take on this once in a lifetime challenge alongside other members of TeamSIA!
Best of all: hit the sponsorship target and you can jump completely free of charge!
Whats Included
The day will start with a short safety briefing, before you are suited up and introduced to your instructor, who will look after you from start to finish. From there, you will head out to the plane and the real fun will start!
As a Tandem Skydive, you will be strapped to a trained instructor throughout, who will be fully in control of your descent from start to finish.
As our first ever Skydive Day our staff and volunteers will be there  to encourage you and help make the day extra special. Friends, family and colleagues are all more than welcome to come along and provide some moral support  – and cheer you on as you come in to land.
We will also have some competitions on the day, and a celebratory picnic, to help make this a fun and truly memorable day for all involved!
How to take part
Signing up to take on this amazing challenge couldn't be easier! Simply complete the registration form below,and our fundraising team will be in touch to help take payment towards the registration fee.
To take part you will also have to commit to raising our fundraising target of £500, however Our fundraising team will be on hand throughout to give you plenty of support to help reach that goal (and more). You will receive a fundraising pack, SIA T-shirt and more upon completing your registration, along with a few other things to make your fundraising as fun (and easy) as possible!
Our top fundraisers will also be awarded some fantastic prizes: more details to be announced soon.
Fancy Jumping with friends, family or colleagues?
You are more than welcome to enter as a team, and many participants in Tandem Skydives find this greatly improves the experience. Team entries for all of our events are very welcome, so please do contact us if you want to discuss team fundraising targets for groups.
Sign up today! 
So what are you waiting for? Book now to experience the challenge of a lifetime, whilst helping to make a massive difference in the lives of spinal cord injured people!
Skydive Full Terms and Conditions
Alternative Events: For anyone interested in taking part on a different date, or at an alternative venue, please contact our fundraising [email protected] 01908 604 191, or email: [email protected]
Restrictions on Participation: All participants will be required to complete a medical disclaimer on the day, declaring that you are medically fit and healthy enough to undertake the activity, or otherwise will need a get a form (below) signed by a Doctor prior to participation. Due to restrictions put in place by the British Parachuting Association (BPA) anyone who has sustained a spinal cord injury would not be able to participate on this day – However SIA would be happy to source alternative venues and means of participation for any persons looking to take part.
The event will be held at
Hinton-in-the-Hedges Airfield, Steane, Brackley, UK