Help spinal cord injured people tackle their everyday mountains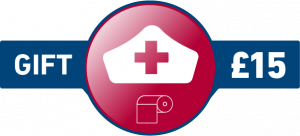 £15 could help fund life-saving support with bowel and bladder management from a spinal cord injury nurse specialist from a spinal cord injury nurse specialist.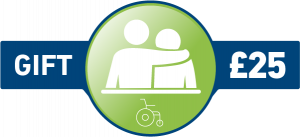 £25 today could pay towards life-changing peer support with practical advice and reassurance from someone who's been there.
£30 could pay towards campaigning for better care in hospitals and improved access to work, leisure facilities and transport.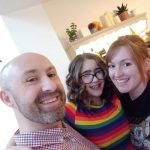 I'm Pete. We haven't met – but I think we share something in common. We both know that spinal cord injury changes people's lives.
I bent over one day
to pick up a pair of shoes…
Days later I was in hospital being warned I might never walk again.
When I came round after emergency surgery, my life had changed. I'd been diagnosed with Cauda Equina Syndrome (CES). Although I didn't fully appreciate this at the time, it's a condition where the bundle of nerves at the base of the spinal cord become damaged, resulting in reduced mobility and sensation, and neuropathic pain.
At the time though – I had no real idea what my diagnosis meant. I certainly didn't know at this point that CES is classed as a spinal cord injury. I was sent home – in pain and in shock – with no understanding of what was to come.
Spinal cord injury can be so isolating,
especially in those early days
You're in shock, numb in more ways than one. All the everyday tasks you took for granted – like just getting out of bed in the morning – seem like mountains. If you manage to get out of bed – the fatigue hits you like a brick wall. You can't even get around your own house without help. There's no way you can go out – you're too exhausted.
I'd always loved adventures. The adrenaline of a mountain bike ride; the healing power of the forest or the hills. Serving in the army, I'd travelled all over the world with the Royal Engineers. Now I was stuck between my own four walls, with an awful feeling that my adventures were over for ever.
Grieving for a life before injury
If I'd ever felt low before I got injured, I'd turn to the outdoors and a therapeutic bike ride in my beloved local forest. I suppose it was how I managed my mental health – although I never even thought about it like that back then. It was just something I did – getting my 'fix' and then getting back to the day-to-day. But, diagnosed with CES, I felt like I had nowhere to turn. Nowhere to get my fix and no hope of ever getting it again.
At the time of my injury, I was still grieving for my dad, who died last year. Now, in what felt like a weird, cruel plot twist, I was grieving for my own life before injury. And my coping mechanism to deal with difficult feelings had been ripped away. How could I ever get back on my bike when I couldn't even get out of bed?
Before my injury, I used to come away from the forest feeling ecstatic, exhilarated, euphoric. But when I finally got the strength and courage to walk off-road again, I felt awful.
I left the forest – always my happy place – feeling confused,
frustrated and empty
I'd very carefully built up to this moment – walking slowly down our road to number 27, then to number 31, then number 35 and back, then two days' bed rest to recover, then the whole cul-de-sac, then more bed rest – and I was stoked about my first off-road walk back in my beloved forest.
But as soon as my feet touched the uneven, gravelly ground, my brain froze. I guess it went into panic mode – unable to process the garbled messages my damaged nerves were sending. I returned home completely demoralised. How could I build the life I wanted when everything I'd taken for granted now seemed impossible?
The turning point for me was a one-liner in my millionth Google search. 'CES is classed as a spinal cord injury.' That shocked me – but it also saved me. It sent me down a new track, where I discovered SIA and Martin.
I'm in awe of Martin –
he made me believe in myself again
Anything to do with mountains and I'm all ears. So, Martin's Mountain resonated immediately, in more ways than one. The Manchester Arena bombing happened on my 40th birthday. A defining moment in my life maybe – but nothing compared to what Martin went through. Serving in the army, I saw my fair share of injuries caused by explosives. But for it to happen so close to home – just an hour up the road – to families, parents and young people. It was just horrific. Yet here was a man who'd managed to turn being injured in the most horrific way, into a force for good, with the help of SIA.
Without SIA, I'm not sure where I'd be –
mentally or physically
SIA gave me the hope and the tools to rebuild my life and tackle my own everyday mountains. Peer support and practical advice from people who'd been there as well as specialist support from spinal cord injury specialist nurses. An ongoing network of emotional support from people in a similar situation, who get the frustrations of living with all the hidden challenges of a spinal cord injury.
Now I've climbed an actual mountain (Snowdon), walked a marathon, and I'm back at work and enjoying life again.
Could you help make sure every spinal cord injured person gets that chance?
SIA and Martin taught me: when you have a spinal cord injury – preparation is everything. Get the right people around you. Work out what you'll need and get that equipment in place. Set small goals and celebrate them as you work towards a bigger challenge.
Whatever your goal or everyday mountain, with the right support around you like SIA, you can scale it. Maybe you already have.
Thank you for reading my story.
Pete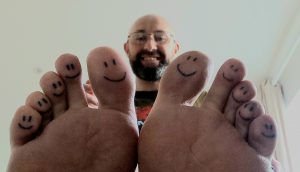 I always wanted smiley face tattoos on my toes, but the thought of the pain put me off. I have now taken advantage of the reduced sensation in my feet to do the deed! Now my ten happy toes remind me to seek out the positives post-injury.
An enormous thank you from us to Pete for sharing his story (and the great toe pic!)