Big Give Christmas Challenge

From hospital to home with a spinal cord injury
At the Spinal Injuries Association, we work to bridge the gap from hospital to home, providing crucial support and guidance to everyone affected by spinal cord injury.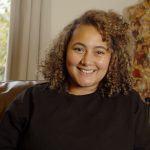 Zoe Fox, benefited from SIA's services in 2020 after being discharged from hospital during the pandemic with a spinal cord injury caused by Cauda Equina Syndrome with no support or guidance on how to deal with her condition.
Watch this film to hear Zoe's heart-wrenching story and how SIA's services helped her deal with her 'new normal' – physically and emotionally.
Help us provide life-changing support for more people like Zoe by supporting our Big Give Christmas Challenge
Thanks to the generosity of people like you we managed to reach our target of £9,000 in just under 24 hours last year and we're proud to announce we'll be taking part again this Christmas!
We are aiming to raise £16,000 through our Big Give campaign between 12 noon, 30 November and 12 noon, 7 December when you can double your donation to SIA. Can you help us raise even more for newly spinal cord injured people this year?
Watch Zoe's story and please support our campaign by making a donation via our Big Give page up until 12 noon 7 December.
Thank you for your support!