Advice and Advocacy
'You've helped me so much and enabled me to help my brother and my Mum and Dad – I would have drowned without your support' caller to our Support Line
Our Advice and Advocacy Service is here to guide and support you with all aspects of your life with a spinal cord injury.  Talk to us on Freephone, 0800 980 0501.
What is Advice?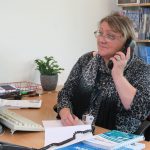 Advice is providing guidance and recommendations on what to do in a particular situation. Our Advice Line Officer is here to help you understand more about spinal cord injury and provide the support and practical information you need for day to day living.  Contact our Advice Line Officer, Teresa via the Freephone number, 0800 980 0501. Or email her on [email protected]. This service is available to members and non-members alike.
What is Advocacy?
Advocacy is provided by an advocate. An advocate is someone who acts on your behalf and argues in your favour if there is a dispute about the service, care or benefits you receive. We can provide that support on a wide range of things, for example:
travel companies
airlines
rail companies
hotels
retailers
to more complex and in-depth problems. This can be by way of by way of factsheets, letters and, on occasions, attending meetings with you.
For advocacy please email us on [email protected]   This service is only available to our members.  Membership is free and you can join on-line .
You can also contact us using this form for advice and information or advocacy enquiries.
In need of Financial Advice? 

If you are in need or support or advice with your finances after injury, our Trusted Financial Partners  – Irwin Mitchell – may be able to help.  They are experts in supporting SCI people and their families plan for their financial futures, and offer a financial health check as a free, non-obligatory chance to discuss any issues, or ask any questions you might have.  For more information on the support they offer, visit their partnership page on our website.
Share experience and knowledge with other spinal cord injured people, their family and friends on our Message Board.    Our Support Network team are also here for you and your family when you are newly injured and beyond – providing support to help you as you rebuild your life.
Access our resources. SIA has a wide range of  publications and resources developed to provide information to help you at whatever stage you are at with your injury.