Helen Cowan
"I can't wait for the next Fish and Chip night! Can we have one every month?"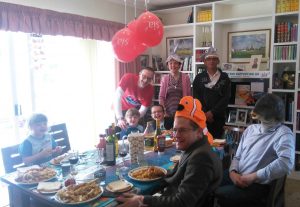 The quote above is what our young nephew asks everytime we see him!  We have held a Fish and Chip night to raise money for SIA for the last three years and the event seems to have captured his imagination so much that he is always seeking new games, songs or costumes.
Preparations start weeks in advance as SIA invitations are sent to friends with the order to 'wear something fishy'. Efforts so far have included dressing up as pirates (complete with inflatable parrot and a bottle of rum), wearing fish ties, flippers, homemade anchor necklaces, fish facemasks, fish swimming hats and fishing nets. The less adventurous wear normal dress and claim to be cruise-ship passengers. Our home is decorated with SIA balloons, posters and collection boxes. A shower curtain covered in fish creates a "river" on the floor, and pirate cups, plates and napkins adorn the table. Then the games begin!
The SIA quiz tests all abilities; the children enjoy guessing the number of shells in the jar or number of fish oil capsules in the bottle; there is a race to complete different parts of a fish jigsaw puzzle and we play 'Pop-up Pirate'. The highlight this year was the unveiling of a super hand-knitted lifeboat-man and we all had to guess his name (Clive). Once the fish and chips and the 'Phish food' ice cream are eaten, the sing-along begins! We have a CD of the hearty Filey Fishermen singing hymns such as 'Take the Lifeboat' and 'Will your anchor hold in the storms of life' and we pass around hymn sheets and join in (points awarded for the best singing). The grand finale is when my nephew joins me on the organ and we play a medley of tunes. With a full stomach and the joy of friendship, fun and song, donations readily come in. And one very excited four year old boy who cannot wait to tell his classmates of the great time he has had, whilst also learning about giving.
Our Great British Fish and Chip Supper event is held every year to coincide with Spinal Cord Injuries Awareness Day but it is such fun you can hold one at any time of the year and SIA will offer all the support you need.  Sign up to eat #Chips4Charity here