Lorraine
Like millions of people across the country, I sat watching the London Marathon on TV, thinking about how tough it must be and whether I could manage it, when I got an email from SIA, asking if I could do something to help. The timing was a bit too coincidental, and the cause a bit too close to me to say no!
Within the next few days I was signed up as a part of Team SIA and it struck me that I was going to be running 26.2 miles in just over a year!
My Motivation
My motivation for taking part was simple – my brother Simon who sustained an SCI doing something he loved – Rugby.  It was the first match of the season and a scrum collapsed on him and resulted in a C3/4 injury, that left him in intensive care.  Sadly, the level of his injury was so severe that after eight long weeks he lost his fight and passed away.
Simon was an amazing character, good looking, charming, a practical joker, a loving son and a fantastic brother, and I miss him every day.  His injury put everything into perspective for our family, and I have since done things that would have been unthinkable before. That includes running the London Marathon –  Simon would have found this hysterical, as I was the least sporty person he knew!
When Simon was injured, the nurses supporting him mentioned SIA straight away, and the support we had from them was amazing, so when I saw that email come through something just clicked and I knew I needed to give it a try!
After seeing all the love and support my brother had received, I promised myself, that if I ever could do anything to support people in the same situation I would.  It took 20 years, but I got there eventually!  I am amazingly proud to say that I completed the race (in TIME), and can add to that achievement that it was also the hottest London Marathon on
record!
Support from SIA
The help I received initially from SIA was absolutely amazing, and they really did help me get off to a flying start.  Throughout the whole process they were always in touch, and happy to answer the phone if I ever needed anything, even if it was just a bit of reassurance. It was really nice to know that they were taking a personal interest in me and my story, that they understood why I was running, and that it wasn't just about the money, but about helping me with my own challenge too!
The experience!
In honesty, my first thoughts after the race were just how exhausted I was, but this was mixed with a real sense of achievement, and a total disbelief that I had actually managed it. This eventually led to total exhilaration, and a sense of pride that I didn't know was possible.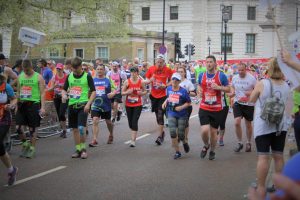 Taking part in the London Marathon, and supporting SIA made me feel so, so proud, and I am incredibly glad that I made the decision to answer SIA's email.
Raising funds
The fundraising wasn't a walk in the park either, but I remembered how much support my brother got when he sustained his injury, and with some creativity and a bit of persistence, I found my way to my total, in fact I finished up by raising over £5,500 for SIA!
I think the secret was making it fun, and showing people exactly what their support meant, no matter how big or how small.
I got a local curry house to hold a fundraising night, selling tickets with the profits going to SIA.  I held a rugby night during the six nations that saw friends and family attending and making little donations for homemade welsh cakes, and I roped my colleagues into taking part in many a bake sale! One of my colleagues who has a connection to SCI went around the whole office drumming up support to help my cause for no reason other than she knew how much good it would do and she knew how hard the marathon would be!
Breaking the fundraising up into little chunks also made it really manageable, and helped keep me motivated over the whole year.  Just Giving was a big help too, and made it really easy to keep the money coming in throughout the year. I made sure to mention important dates and anniversaries on facebook, such as my brother's birthday and I always included the link to my page. Every single post got at least one donation – which helps chip away at the target.
Go for it!
If I have one bit of advice for anyone looking to get involved it would be, just go for it! I showed myself that you can do anything you really want to if you put your mind to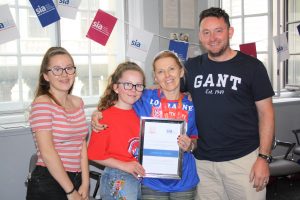 it, and you will be amazed at how willing people are to support you. I re-connected with people I haven't spoken to in years, and I was amazed how many of my brothers acquaintances, ex-colleagues and even old school friends all got in touch, pledged their support, wished me well, and reminded me of how much my brother was loved.
Running the marathon for SIA made me hugely proud, but also restored my faith in people. It was great to be able to give something back to a charity which does so much good – and I can honestly say it is the best thing I have ever done!
Lorraine – London Marathon 2018 Finisher
Visit our Events Section to find out more about taking part in a Marathon or other challenges to support SIA .