Lydia Rose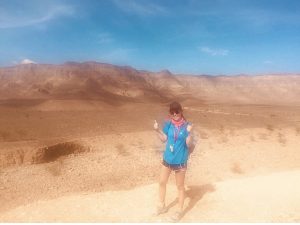 What event did you take part in?
The Saharan Challenge – walking two marathons in two days in the Sahara Desert. The event was organised by a third party tour company which made everything easier for my fundraising.
Was your fundraising event something new or a hobby? 
I made two New Year's resolutions in 2017 –to walk in the Sahara and to raise money for SIA, which I had wanted to do for years. I had six months to prepare and managed to convince one of my friends to do it with me so that I had a companion along the way. Our training wasn't as intense as we had originally planned and mainly consisted of weekend walks around London  – the most we actually ever did was 30km once (a quarter of what we had to do overall!), in a temperate England.
Why did you decide to fundraise for SIA?
My dad had a life-changing spinal cord injury whilst skiing when I was 8 years old. Growing up I saw how this affected my dad and my family, from the time of his accident and throughout our lives; this made me determined to give something back to others who had been through a similar thing.
What advice would you give to those to make the most from their fundraising and the event?
My main motivation in finishing was for my dad and the mental strength that he, and so many other people with a spinal cord injury show in their recovery and daily lives.
Lydia says:
'We faced agonising blisters that made walking very tough and crippling heatstroke. Many dropped out, but it was sheer determination (and listening to ch
eesy music!) that somehow got us to the finish line.
The feeling afterwards was amazing and I could not believe how supportive and generous my friends and family had been and I managed to triple my fundraising target. It is something I had wanted to do for a long time and I am happy that I had been able to raise money to help people in similar positions to my dad and my family.'