Forward Magazine
SIA's bi-monthly FORWARD magazine provides the SCI community with a wealth of information on topics including health, daily living, employment, relationships, sport, travel, families and friends, and much more.
Our members have real ownership of the magazine, with most of the articles written by SCI people. Their input is invaluable and provides support to newly-injured people, as well as those with a long-term injury.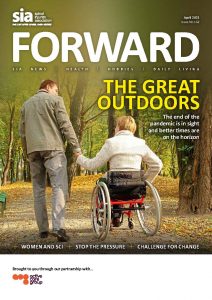 If you'd like to subscribe to FORWARD, visit our online shop or fill out the Direct Debit Mandate for Forward form to ensure you receive the magazine with no interruption to your service. The magazine is also available in PDF format.  Email the editor on the email address below if you'd like to be added to the PDF mailing list once subscribed.
Contribute an article
We are always on the look-out for new contributors. If you'd like to share your experience of SCI, or if you are a friend or relative of someone with an SCI,  please email [email protected]
Forward is brought to you through our partnership with:

The Active Care Group is the UK's leading national provider of complex care, harnessing innovation to raise standards and deliver better outcomes for children, young people and adults.
We provide progressive, personalised care pathways that combine clinical expertise, personal support and therapeutic services, in a range of different settings to meet users' evolving needs.
We support people with a range of complex conditions arising from brain and spinal injury, epilepsy, learning and/or physical disabilities, often involving high-dependency ventilation and respiratory care.
We believe that better quality care leads to a better quality of life.