Hannah Page shares the story of her mum, Anne Pugh, to show how proud she is of the way in which Anne overcame the challenges she faced following her spinal cord injury (SCI).
My mum's story began on 24 May 2014, when we were out celebrating my dad's 60th birthday. All our family and friends had joined together to share a drink, when mum started to complain of horrendous back pain. Mum had a history of pain in her back, so we were not overly alarmed as we thought she might have pulled something. We thought that after taking some painkillers everything would be okay.
Over the next day or two, the pain did not get any better, so mum went to the doctor. They ran some routine checks and after mum told them that she had suffered some recent bad chest pain too, they decided to do an ECG. It showed mum had had a heart attack. Mum was a very fit and healthy woman, so we were shocked by this news.
After being admitted to hospital, mum's heart was monitored and treated, but her back pain was still extremely bad. Mum was in terrible pain but as this was not a life-threatening worry, unlike the heart attack, things had to be taken one step at a time and treated in order of importance.
After three more days of continued pain, mum started to get increasingly distressed and suddenly overnight could no longer feel her legs. She was rushed to Romford Hospital and had an MRI scan, which showed that she had sustained a spinal bleed. In usual circumstances, the doctors would have immediately operated to drain it, but due to mum's heart attack in recent days, nothing could be done as surgery would have been life threatening. The terrible outcome of this would be that mum, most probably, would never walk again. We were utterly devastated by this news and to make things worse, the doctors could not tell us if the bleed had stopped or if it would continue and heighten mum's level of injury. None of us could believe this was happening. Would mum be okay? Would the bleed continue? What about mum's heart? Would she walk again? Nobody could answer these questions, we just had to wait.
After spending three days in Romford Hospital, mum was transferred back to Colchester. But after a few days, she had another heart attack and was transferred to Basildon Hospital. It was decided after further investigations that a stent procedure would be the best way forward, but sadly, this was not possible, as one of mum's veins had split. Inserting the equipment required may have caused even further problems. It seemed never ending. We all sat by mum's bedside in disbelief. Mum was, and always has been, the centre of our family and we were all so desperately worried about her.
Fortunately for us, mum had my grandad's fighting spirit and after two heart attacks and a spinal bleed, she stayed incredibly positive. It was confirmed that mum had a T6 complete injury. The doctors looking after her said that in all their years of practising medicine, her case was incredibly rare, and something they'd never seen before. This was very difficult for us all to accept, as there were so many questions that had been left unanswered and will always remain that way. After being transferred back to Colchester for six weeks, mum got her place at Stoke Mandeville Hospital for another 10 weeks. Mum did fantastically with her rehabilitation and was even chosen to present the Countess of Wessex with a bouquet of flowers at the unveiling of the Wall of Fame at the Guttmann Centre in October 2014. I think mum felt better, too, understanding her injury more and being around people in a similar situation. She is still in contact with a few of the people she met.
In October 2014 mum came home. It was the start of another long and difficult journey for her, learning to adapt to a new way of life. Mum was determined to do everything herself, so we made adaptions around the bungalow to help make things as easy as possible. A new wet room was at the top of the list and slowly other things have been added too, such as ramps around the garden and now we are currently redesigning the kitchen.
Mum, who has been a nurse all of her life, started to work again as a Breast Care Nurse in March 2015. She was very anxious, but wanted to continue her role to help and support the women she cared for. But sadly, after six months, mum decided that she couldn't manage to continue. Due to the many constraints of being in a wheelchair, things were not as easy as before and she retired in September 2015 after 42 years of nursing. She was desperately sad as she felt she had so much more to give.
With so much more time on her hands now, mum throws herself into just about anything: being a housewife, mother, grandmother, gardener, cleaner, decorator and fitness fanatic!  Mum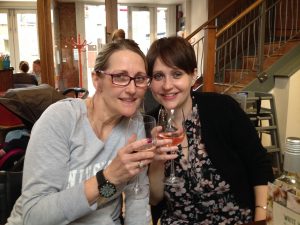 always tries to do as much as she can and doesn't let her paralysis hold her back. She has even completed another level in her counselling course, which she hopes to use in the future.
Mum is also mobile now and has had her car recently adapted. My family and I are so proud of mum – she strives every day to continue life as normal as possible. I know that some days are still hard for mum, trying to cope with what she has lost, but mum is a fighter and I know she will never give up. She says the love and support of her family have helped her through this very difficult time.
My family and I have all tried to cope as best we can in adapting to mum's new life. I still do find it hard to accept and it breaks my heart to watch mum struggle. I have been incredibly lucky to have my mum, dad and my husband to talk to about how I feel, which has really helped. I am just so pleased that mum can watch my little girl and her other five grandchildren grow up.
Showing support
If I have any advice for someone whose parent has just sustained an SCI, it would be to just be there to support and listen to them. Tell them how much you love them and encourage them with everything they want to try to do. This year is mum's 60th birthday and I want to try to do as many nice things for her as I can. I wanted mum's story to be included in SIA's Forward magazine as she loves it and I want to tell everybody how incredibly proud I am of her and how far she has come. FORWARD has also been a great support to us and we have learned a lot by reading other people's stories. We have even booked our first holiday abroad this year since mum's injury, through an advert in FORWARD, which we are so excited about! So mum, when you read this article, always remember what an amazing, inspirational lady you are. I am very proud to call you my mum.
This article was taken from the August 2016 issue of SIA's bi-monthly magazine, FORWARD.  
If you do not already subscribe to FORWARD, click here to make sure you don't miss out on the next issue.