Our Trusted Care Partner: Total Community Care
"Total Community Care (TCC), as a specialist care provider, are delighted to be working with the SIA as a trusted partner.  This builds upon our long standing relationship with the SIA and promoting the excellent work it undertakes on behalf of all its members, and many of TCC's clients.  Never has that work been more essential than in these challenging times and we look forward to working together for the benefit of all those with a spinal cord injury."
Reg Perrins, Commercial Director at TCC
"SIA is committed to building an Association for All – one that can support our sector to be greater than the sum of its parts – building capacity and expertise, raising voice and influence, and coordinating increasingly accessible support and services to all who need it. The addition of TCC in our network of trusted partners is a significant step towards achieving that vision. We're excited by what we can achieve together".
Anna Saunders, SIA's Head of Investments and Partnerships
About our Partner: Total Community Care (TCC): 
Providing bespoke care nationwide for clients with spinal cord injuries and neurological conditions
Total Community Care was formed in 2006 by Chris Freestone and Reg Perrins. They wished to create an organisation that was truly client centred and provided bespoke care teams for people living with spinal injuries and neurological conditions. To this day, the client-centred approach remains at the very heart of TCC's philosophy and is the foundation for the first-class service it delivers.
To find out more about Total Community Care's bespoke package solutions, contact us here.
Colin – Spinal Cord Injury (C2/3 incomplete) & Hypoxic Brain Injury
"Our case worker found Total Community Care (TCC) and to start the ball rolling Chris, a TCC director, came to meet us as a family.  Our aim was to find a 24-hour care team ready for when my Dad came home.
"The recruitment process ran smoothly, and we were able to pick our own team. Some are still with us today, which in itself speaks volumes. If we need additional support, TCC staff are always there at the end of the phone.
"The team is constantly training and keeping up to date with Dad's care needs. Without the help and support the care team provide, we don't know how our family could have got through this.

"If anyone in the same position is looking for a great company, we would definitely recommend TCC. The support and advice we received from Lana our Care Manager and Paula our Trainer have been brilliant. You can tell they genuinely care about my Dad. My Mam and I couldn't have asked for anything better when we selected TCC."
Sally & Robert – Colin's daughter & son
Why Choose Total Community Care?
Spinal cord injuries (SCI) and neurological conditions pose a unique set of life-changing challenges to many aspects of living. The choice of care provider, therefore, is a critically important task.
At TCC, our approach is to give the client control by placing them at the centre of the process. With our full support and guidance, we assist clients in recruiting their own care team.
Once appointed we will, in conjunction with rehabilitation units and other health and social care professionals, train the team to meet clients' specific care needs.
Key advantages of TCC's service include:
Specialists in spinal cord injury and neurological care
Appoint own bespoke team of carers
Assistance with recruiting own care team
Hassle-free changing of providers
Lifestyle driven care
Dedicated Clinical Nurse allocated to care package
Dedicated Care Manager allocated to care package
Specialist spinal cord injury training for care team
To find out more about the services we provide, and solutions we can offer for your care, visit our FAQ page here. Or,  you can read more from our team, including news, updates and important information on the TCC blog here.
Meet Our Team: 
Total Community Care has a vastly experienced team of management staff who are all passionate about providing the best care possible to people in their own homes. Our clients demand a well organised, quality, professional organisation and this is what we, as a team, deliver.
Many of us have previously worked for a number of years within the NHS and we ensure that our skills and experience are shared with you and your care team to produce the best possible outcomes.
Chris Freestone– Clinical Director
Chris is a registered nurse who has specialised in spinal cord injuries for more than 20 years. His experience includes time at Stanmore Spinal Cord Injury Unit and the London Spinal Injuries Centre.
Reg Perrins – Commercial Director
An experienced social worker, Reg has worked in a variety of hospital and community settings. He is passionate about delivering flexible and responsive services based on individuals' specific needs.
Debbie Mason – Operations Director
Debbie manages the operations at TCC including our recruitment team, HR and administrative teams. She has over 20 years experience working in spinal cord injury and neurological care and is passionate about ensuring our clients receive high quality, person centred care.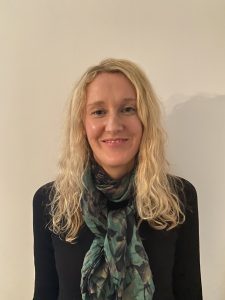 Sarah Tennent – Business Development Manager
Having previously worked at the Spinal Injuries Association, Sarah has 10 years' experience specialising in spinal cord injuries. Her wealth of knowledge in setting up bespoke care packages enables clients to get the support they need.
To discuss Total Community Care's solutions in detail, please contact Sarah Tennent on: 01858 469790 or email: [email protected]
Client Testimonials:
Follow the link here to find further testimonials from Total Community Care's Clients, and to see how they could help you.
However, you can also hear first-hand from TCC client, Steve Paget, by watching the video below:
Alex – TCC Client (Spinal Cord Injury, T8)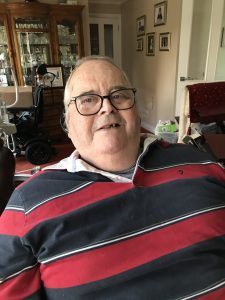 "I spent a period of time in Oswestry Spinal Unit for rehabilitation prior to my stay in a nursing home. I am now in my own home with a 24-hour care package managed by Total Community Care (TCC).
"I have had no problems so far, anything I have asked for I have been given. The four girls, well I call them my ladies on my care team, they are all perfect I couldn't give them a higher testimonial honestly. T
hey even bring in lunch for me and everything.  I keep on telling them not to, but they insist on bringing it in which is so kind.  So, I let them get on with it that's the best way, ha-ha!
"The support I receive from my care team and care manager is great, absolutely great. Anything I ask for they do. As a matter of fact they do it without my asking.  I don't ask them to dust, I don't ask them to polish or do any washing or anything, but they go ahead and just do it. They really are top class.
"The girls are completely competent with all my care needs. There is nothing they can't do. The training up to now has been 100%. I would recommend Total Community Care anytime.
"During COVID, Total Community Care have dealt with it with absolutely no problem.  The girls take complete protection all the time with the right PPE. I am looking forward to being able to go out with my care team but at the moment, due to the pandemic, we just can't. It will be lovely when the better weather comes and we can be out and about.
"My care team are very good at organising any PPE they need, and I can leave them to it. I knew one of my team members from before because she worked in the care home I was in. She applied for a job with TCC to move from the care home to work on my team.
"I found the recruitment process for my other team members, no bother, no bother at all. It was lovely and all straightforward, and I felt in control of the people being recruited to work on my care team. Now, I am not sure if I control them or they control me because they keep telling me off J ha-ha, but only in a good way though, only in a good way
"Beth my care manager is great; she communicates regularly with my care team to support us all.  I can only say that Total Community Care's service is top class, after that there is not much else you can say is there?"
Ben Joyce – Complete Spinal Cord Injury at level C4-5
Increasingly people with a SCI are being given a greater say in choosing the right care provider for them.  It can be a big decision but no one should have to remain with an unsuitable provider.

Here is Ben's experience:
"I was involved in a road traffic accident in 2006, suffering a spinal cord injury at C4/5 level (complete). Upon discharge from hospital in 2007 my care package had been set up to be jointly funded by CHC/local authority and a care provider was selected to cover all my care needs.
Ten years later my life was being ruined by appalling levels of care, with a total lack of empathy shown towards myself and my needs to try to live as normal a life as possible. There was no settled care team and different staff turned up every day, sometimes not at all! These were mainly agency staff who accepted the shift, regardless of whether they were competent. Recruitment only found me one applicant in a year of searching. Billing and payroll messed up every invoice.
My concerned dad contacted SIA. I discussed my situation with an SIA representative and with their encouragement researched online, taking the plunge of contacting TCC. From day one the difference in approach was noticeable. They answered the phone promptly, listened and assured me the company would be able to support my care needs.
The change in attitude made me realise how bad things had become and highlighted that there was a route out. TCC put together a proposal which I shared with my joint funders and we agreed to proceed.
The handover process is much simpler than you could imagine. I worked closely with TCC to set up a care plan and job advertisement. We had a successful response and interviewed eight potential candidates. I selected who I wanted employing on my team and gave notice to my previous care provider. I also said that I wanted to take one of my staff members with me to TCC. This was a very smooth process.
My team of staff completed the mandatory TCC induction training course and I set up the first working rota. 18 months on and I have a care team of three people working to my personalised rota to fit in with my life requirements. I haven't seen any agency or unfamiliar staff.  My monthly invoices are correct; my staff get paid on time and correctly.  Long may this continue in making my life hassle free and with a much higher level standard of care."