Our trusted legal partner in the East Midlands: Irwin Mitchell
"We're thrilled to be working with SIA as their trusted partner to create an improved support network and future for those who have experienced a spinal cord injury.  Our new partnership enables us to provide support with both day-to-day practical advice and ensure you have access to the best medical care and rehabilitation. We look forward to working closely with such a special charity during these times of change, as we create a brighter future for the spinal injured community."
Cathy Leech, Spinal Cord Injury Expert, Irwin Mitchell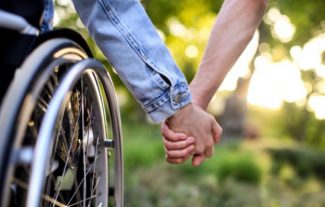 "As longstanding supporters of SIA, we have seen the amazing lengths that Irwin Mitchell and all their staff will go to, in order to get the very best outcomes for SCI people. As a firm they really have done an incredible amount to support our work, whether sponsoring our services, attending events, or hosting training sessions on our behalf.
As individuals they have been equally committed: shaking buckets, running marathons putting on fundraising balls and cycling half way around the world with SIA on our many adventures –  we couldn't ask for better partners!"
Gary Dawson, SIA Support Network Coordinator
About Irwin Mitchell
With expert legal advice, we'll help you receive the best possible financial settlement, medical care, rehabilitation and support, whatever your illness or injury.
So you're able to focus on what really matters.
Why choose us
If you or a loved one has suffered a spinal cord injury the emotional and physical impact can be lifechanging. We're here to get you access to the best medical care, rehabilitation and support. We will investigate your case to find out if anyone was at fault and work to get you the justice you deserve and compensation. We'll also assess the impact of your injury to understand what support you'll need now and in the future.
By building a relationship based on openness, trust and honesty, we're better placed to provide the expert advice you need. Our highly specialised team will put you at the focus of everything we do and approach your case with care and consideration to ensure the best possible outcome for you.
Our initial aim is to reassure you through securing interim payments, as we know that getting early access to specialist rehabilitation gives you the best chance of living an independent life. We'll offer advice on your state benefits, employment rights and other financial issues. The majority of the spinal injury claims we handle are on a No Win No Fee basis. This means you don't need to worry about paying anything upfront and you won't have to pay any legal fees if your claim isn't successful.
Compensation can pay for important services to support your recovery or help you with everyday living, such as:
Adaptations to your home
Transport
Help with loss of earnings and expenses
Private healthcare
Rehabilitation and therapy.
To find out more about how our Trusted Partners Irwin Mitchell can support you or a loved one after suffering a catastrophic injury, visit their website.

 Meet our Team
"I enjoy the relationships with clients and their families and keep in touch with many of them long term, their experience helps me with advising newly-injured people too. To watch people who have been through a really traumatic experience emerge from their rehabilitation and build in confidence for the future and help to support them through that is a privilege.
I also value enormously working with charities which support injured people; particularly the Spinal Injuries Association with whom I helped develop initiatives to support Spinal Cord Injured people, like the Peer Support Service and Health Care Professional study days as well as doing a lot of fundraising for them. They must be a worthy charity if they can make me run marathons and ride a bike for miles"!
"I am inspired to help my clients and their families at a time in their lives when they have been through such a traumatic experience and everything they hold dear to them appears to be changing. This can happen in a number of ways whether it is assisting with introductions to private rehabilitation, appointing a case manager, liaising with architects over housing adaptations, securing interim funding to pay for much needed services or helping them with debt management".

"Every day I am struck by the strength and the dignity that patients and their families who have been injured or affected by medical negligence cope with their injury or losses. I feel very humbled to work with these individuals, to find them answers and where appropriate seek compensation for their injuries to provide funds to assist with their day to day lives and if possible rehabilitation. I am also aware that bringing medical negligence claims and highlighting patient safety issues can raise standards of medical treatment and hopefully prevent similar incidents happening to other patients".
We're aware that learning to live with a spinal cord injury can be a long and emotional process. We're here to help, so you can focus on what really matters.
Making a claim can seem daunting, but with more APIL accredited spinal injury specialists than any other firm in the UK we're here to answer any questions you may have. We pride ourselves on securing the best outcome for you and your family and are willing to fight difficult cases to ensure you can live an independent and fulfilling life.
Ainsley's story
Watch the video below to find out more about Ainsley's amazing story, and all the support he received from the team at Irwin Mitchell to get him back on track after injury.
Our client Ainsley was a university student when he was involved in a road traffic collision, resulting in a serious spinal cord injury which meant he would need a wheelchair for the rest of his life. The reality that he'd no longer be able to walk was very hard to take, especially for a young man who loved being active and playing sport.
As part of Ainsley's rehabilitation, he participated in the Inter Spinal Unit Games, which gives people with a spinal injury a chance to try different sports. However, perhaps the most important moment was when we introduced him to adaptive rowing. Taking part and getting out on the water has given him the opportunity to experience an element of freedom and independence that he'd not enjoyed since his injury. Ainsley has recently resumed his studies at university, allowing him to look forward to a positive and active future.
"It was so hard coming to terms with my injury, but sport has assisted with my recovery and opened me up to a whole new world of possibilities".