Peer support – from injury and beyond
 As a charity, we support our members at all stages of life, from the early days following injury and throughout all of life's challenges and milestones. We'd like to introduce you to Carl Martin, our Network Support Officer for the South Coast.  E: [email protected]
I sustained my SCI on 26 September 2016. I was taking part in a Brands Hatch motorcycle track day when I had a highside crash, which resulted in a T5 complete injury. I was airlifted from the circuit to King's College Hospital in London, where I was admitted to the intensive care unit. I then spent six weeks at St George's Hospital and a further three months at the Stanmore SCI Centre. I first became aware of SIA when SIA's Peer Support Officer (now renamed Support Network Officer) for London, Lady-Marie Dawson-Malcolm, visited me. She came to see me in St George's Hospital when I was still coming to te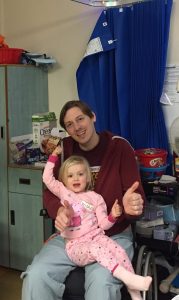 rms with what had happened. Her visit was so important; I was able to see someone with an SCI who was living a fulfilled life. During the first few months of injury, people worry about a wide range of things. For some it's going back to work, while others worry about sex and relationships. For me, my biggest concern was getting home and looking after my daughter, who was only two-and-a-half at the time. I was well aware of the impact my SCI was having on my family and I was glad that Lady-Marie was able to also offer support to my wife, as she too tried to adapt to our new reality. Between visiting me in hospital, looking after our daughter and holding down a job, she had a lot to think about. Thankfully, her employer was supportive, which made a huge difference.
A CHANGE IN DIRECTION
Prior to my injury, I worked as a field service engineer. I was in the role for 13 years, but I had been considering a career change for a while. I wanted to take on a role that would make a difference and have a positive impact on people's lives. However, quitting my job and retraining while paying off a mortgage was not an option. That all changed when I sustained my SCI. I found myself in a position where I could no longer do my job. I had no choice but to refocus and channel my energies into something new. I wanted to become an SIA Peer Support Volunteer but, as I was applying, the role of Peer Support Officer for the South Coast became available, so I applied for the position.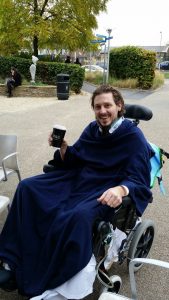 PEER SUPPORT
From my experience of having used the Peer Support service and now delivering support to other SCI people, I know how invaluable it is. I think it increases your confidence at a time when you need it most. Knowing that you're talking to someone who is in the same situation as you makes a world of difference. A nurse or doctor can tell you so much but, if they haven't been through it physically themselves, their words can be hard to relate to. I really appreciated all of the visitors I had while in hospital, but the one thing I enjoyed most was meeting others who had only been injured for one or two years. Again, it's that relating issue. In the acute stages you don't think about what your life might look like in 20 years' time. You can only look as far as the next 12 months. Meeting someone who is still in the early stages themselves gives you confidence that you can get your life back to a reasonable level in a relatively short amount of time. That is what is so great about SIA's Suppor Network team – there's great diversity in terms of the team's levels and durations of injuries. I've only been injured two years and I'm still learning about my SCI and body, as slight neurological changes continue to take place as my body settles down. This means I can very much relate to others who are still in the early stages of their rehabilitation.
A NEW START
While my experiences over the last few years have largely been out of my control, I try to look positively on all that has happened. I can now focus on what I want to do and spend more time with my daughter. It's these precious moments that I won't get back and would not have had if I still worked full time. It goes without saying that I experience frustrations
and limitations; I'd be lying if I said I didn't. But overall, everyday life is pretty normal for me now. I can honestly say that I live a fulfilled life and I'm glad to be able to support other SCI people and their families through my role as a Support Network Officer.
Carl provides support to people living in Sussex, Surrey, Kent and Hampshire, and to inpatients at the Salisbury SCI Centre.  To speak to Carl email [email protected]  To find out more about the Support Network Team for your area visit our Support Network page or call our Support Line on 0800 980 0501.
SUBSCRIBE TO FORWARD
This article first appeared in the October 2018 issue of FORWARD.  If you do not already subscribe to SIA's bi-monthly magazine, click here to make sure you do not miss out on the next issue.