SIBLING SUPPORT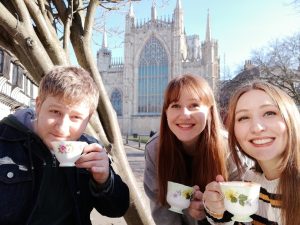 At SIA, we're acutely aware of the impact of SCI on family members as well as the injured person themselves. Brother and sister Robert and Hannah Sumbland share their experiences of SCI and how, despite the devastating impact of Robert's injury at the time, they have gone on to enjoy new experiences together as a family. 
Robert Sumbland – SIA Member
For the past 12 years, I've been learning to live with a rare neurological condition known as Transverse Myelitis (TM). TM is inflammation of the spinal cord and it can happen anywhere along the spinal column, at any age and at any time. Mine occurred at T12 when I had just turned 18.
Growing up, I've always been a nervous person, constantly over thinking everything and always worrying about what might happen, never living in the moment. So, when I suddenly got a rare SCI out of the blue in 2007, my insecurities heightened. I spent eight months in three different hospitals and within that time, I regained some sensation in my legs, which led to my ongoing rehabilitation.
I hated being in hospital as I felt very isolated. I was counting down the days to go home. In August of that year, I was finally discharged. I couldn't wait to go back home to a normal bed, to familiar surroundings, to see my friends and family and get back to 'normality'. I was getting used to living at home but I spent most of my time inside becoming just as isolated as I was in hospital.
I didn't want to go outside because I didn't want people staring at me. I was in fear of bumping into someone from school and hearing the inevitable words, "What happened?" and then I'd feel obliged to tell them why, and it's never a short story. Deep down, I knew that I had to go outside at some point but I just had zero confidence in myself. It came to a point where my friends had to literally drag me outside.
There were people who looked, and children who stopped and stared, but it was only for a few seconds and then they were gone. We weren't out there for that long but it meant a great deal for me to become more confident within myself. As time went by I wasn't even noticing people looking at me. I felt comfortable the more and more I went outside. I started to do more things than I did before my accident. Being with my friends, playing music, painting, drawing, knowing that I could still do these things – albeit not 100% like when I was non-disabled – was a sense of escapism from my worries and insecurities about my disability.
As time went on, I went on different courses that took me out of my comfort zone even more. I have very fond memories of going to Edinburgh and Keswick, doing activities I didn't even know I was capable of. I attended Back Up courses, which comprised mainly of wheelchair users of different ages, all with their own unique SCI story. I felt comfortable talking about certain things regarding my disability with these people that I couldn't necessarily speak about with my other friends back home. I made friends on the trips that I still talk to and we have gone on our own holidays. Within these 12 years, I've learnt a lot about friendship, family, confidence and patience. I now have a part-time job, I have a good group of friends and a family that is considerate and helpful. I still have my insecurities but it feels great to look back and see how far I've come.
Hannah Sumbland
I was in college when my brother Robert was taken to hospital. I was 17 and he had just turned 18. I remember feeling scared and not understanding what was happening. He had been diagnosed with TM, which affects the spinal cord and disrupts messages being sent from the spinal cord nerves to the body. My brother's legs were affected and he couldn't walk. I was upset that this had come from nowhere and had happened to my brother who is the most lovely, creative, caring and friendly person you could know. He was moved between hospitals over a period of eight months. It was strange not having him at home and automatically setting the table for all of us, and then remembering he wasn't at home. We have a younger sister and we are close as a family. We all supported each other.
I didn't tell my tutors at college about the situation, but it would have been good to have had additional support. It was difficult when he was in hospital in another city, but they specialised in SCIs so it was the best place for his rehabilitation. My parents had to drive two hours each way for us to see him. I always wanted to be able to do something to fix the situation and make everything alright, and felt frustrated that there was nothing I could do. It was very hard to process at the time as I was used to seeing my brother every day at home.
When Robert finally came home, he had to use a wheelchair. It was difficult to get used to at first. We realised all the barriers in the environment to wheelchair users, which make places inaccessible or challenging. It isn't always a building; it can be the structure of a pavement, the height of surfaces, public transport or narrow spaces. These things really got to me, as the environment should be accessible to everyone. I still get frustrated with this but try to find solutions. I like finding accessible bars and restaurants, there should be more out there!
Robert now has a cool wheelchair, which is black, white and orange. I'm so glad there are companies out there creating stylish ones because people who use wheelchairs also want to express their personality and style. My brother and I enjoy cooking together. There are still certain barriers such as a small kitchen space, but we have learnt to work around this and make tasks easier by chopping vegetables at the table and working together. This way we can still make delicious food!
Robert is good at spotting a good TV series and films, so we enjoy watching these together when we have spare time, making snacks and drinks to have a nice afternoon. We have swapped books a couple of times as my brother likes reading and this has encouraged me to read. It has enabled me to take in stories and given me the opportunity to talk about them with my brother, and I hope to continue book swapping with him in the future.
In 2017, my brother and I took part in a charity run called 'Run in the Dark', which is an accessible event to raise awareness of paralysis. It was a proud moment to cross the finish line together and see our mum and dad waiting for us. Twelve years ago when this happened, I didn't know what I wanted to do with my life. However, the last couple of years I have been studying occupational therapy at university. I'm looking forward to qualifying and bringing what I have learnt to help others.
This article was taken from the June 2019 issue of SIA's bi-monthly magazine, FORWARD.  
If you do not already subscribe to FORWARD, click here to make sure you do not miss out on the next issue.