" I cried with relief when I finally found SIA.  They knew exactly how challenging SCI could be and had answers to problems that for years I had been struggling with."
Our support starts when you are newly injured and continues throughout your life.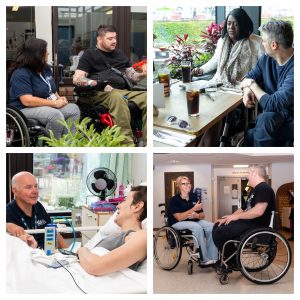 Coordinating that in each region of the country is a Support Network Officer, supported by a set of dedicated volunteers.  They are all spinal cord injured (SCI) themselves and therefore uniquely qualified to support other SCI people. In the initial weeks after injury, most SCI people find our Support Network Officers  are the main point of contact they need. They provide a positive insight into life beyond injury giving other SCI people both hope for the future, as well as practical advice on topics as diverse as managing continence, working, raising a family, driving, holidays, or being an active member of society.
You can talk candidly about sensitive "must know" topics such as bladder and bowel management, self-image, relationships, and sexual function, all with someone who understands the difficulties you are facing. Practical solutions to the new challenges of everyday life can be found through the team's personal knowledge and experiences, or by utilising the support of other SIA services or signposting to external support.
Our Support Network Officers can help you build a network of support for life – after injury, during rehabilitation and at any time afterwards.