Sponsorship opportunities
Help make a difference in the spinal cord injured community, with a sponsorship opportunity tailored to meet your needs and budget. Throughout the year, you can raise your profile and support our work by sponsoring an event, a training day or one of our life-long services.
Here No5 Chambers share their experience of sponsoring an event:
"Sponsoring SIA's Rebuilding Lives Awards was one of the easiest decisions we made. Reading about the achievements of the nominees and how SIA's services have helped people achieve their goals has inspired us to increase our efforts to support their charity." Tony McDaid, No5 Chambers
There are also opportunities available to sponsor one of our roles. Trethowans Solicitors talk here about the benefits of sponsoring Peer Support Officers: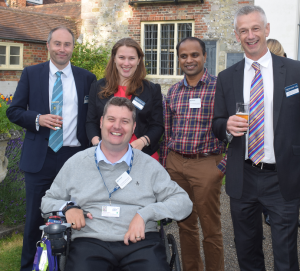 "SIA is a charity dedicated to supporting spinal cord injured people and their families, by advising, educating and campaigning on their behalf. We wanted to help them achieve their mission, which is why we chose to sponsor two of their Peer Support Officers. The opportunity has also been beneficial to us because we have been able to get involved in development of the service to help it reach newly injured people and their families in non-specialist settings.'' – Tom Hartigan, Trethowans LLP
Secure your sponsorship or get a full list of our current sponsorship openings by emailing: [email protected] or phoning us on 01908 604191.