Superhero Triathlon
Saturday 20 August 2022
About this event
The Superhero Triathlon is back, and we need you to dust off your capes and take on a challenge for SIA.
There are three epic distances to choose from and many super ways to take part in these unique tri challenges, from taking on all three stages, to sharing the fun as a team.
We have places available for superheroes committing to a £250 fundraising target and £10 registration fee per person. 
The challenge
Sprint: Swim 150m, Bike 3k, Push/run 1k
Half: Swim 400m, Bike 10K, Push/run 2.5k
Full: Swim 750m, Bike 20k, Push/run 5k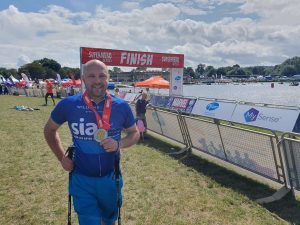 Who can join the mission?
If you, or one of your team mates consider themselves to have a disability of any kind you can take part. You can fly solo and be your own hero or unite with your friends & family to complete your mission.
Flying Solo?
When taking part as an individual you will cover the whole distance yourself, using any gadgets and gismos you need.
Taking part as a Team?
If you have a team of sidekicks joining you, you can complete the triathlon as a relay, or have your sidekicks assist you around the course. Again, you can use any gadgets and gismos you need.
Want to know more?
If you have any questions about the Superhero Triathlon and how you can get involved, please get in touch with Alison on [email protected] or call 01908 732 160.
To find out more from someone who has already taken part in this event just click here. 
Sign up here